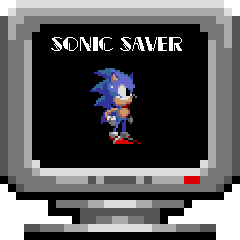 Sonic Saver 1.1
Sonic Saver is a Macintosh Program. If you are looking for a Winodows Screen Saver Go here
Last Updated 1-11-2002
---
News:
Version 1.1 of Sonic Saver was the last. I have released the source code to Sonic Saver today. Sonic Saver was written in RealBasic. I will not provide any support for the source code. It is given out as-is. Enjoy! UPDATE: Now that Sonic Saver has been given the Axe, here is an Easter Egg probably nobody found. Enter one of the following into the Minutes till screen saver activates box in the setup application for a secret message. Sonic, Eggman, Sega.
---
This is the Current release:
Sonic Saver 1.1-Download(1.4 MB)
REALbasic Module SDK-Download(22k)
Sonic Saver Source Code-Download(88k)
All downloads here REQUIRE Stuffit 5.5 or higher to decompress.
---
User Module Archive- More Modules!
---
This page was made in BBEdit Lite 4.6